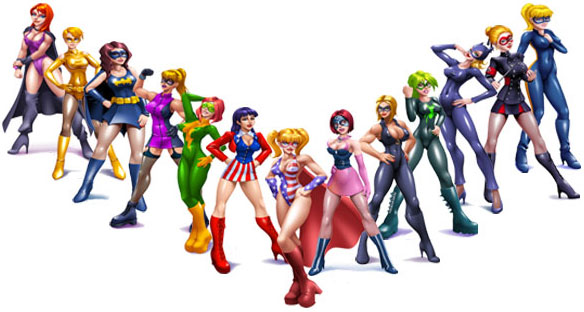 Hello, and welcome to the League of Amazing Women! In this store you will find all 'original' sexy comic artwork, exciting photo sets, serialized comic-book tales, and lots of steamy video clips showing the legends of the 'first generation' fetish industry placed in all different types of comic-book peril and sexy bondage, including international fetish stars like Stacy Burke and Paige Richards. Plus pages upon pages of all of your favorite industry fetish models such as Christina Carter, Kendra James, Diana Knight, Paris Kennedy, Candleboxxx, Cali Logan, Tomiko, Isobel Wren, Vivian Ireene Pierce, Jean Bardot and many, many more!
The League of Amazing Women has the very best to offer in graphic comic-book adventures and excitement. We supply the images, and we let YOU, the viewer at home, supply all of the inner dialogue that you would ever need to make these photos spring off the page and come to life! We have ropes, and chains, and cuffs. We have ballgags, and cleave gags, and tape! Our heroines battle in the classic tradition of good versus evil, but unlike regular comicbooks where good always wins, we invert the dynamic and in our stories evil wins the day and the righteous heroines are stripped of their powers (and oftentimes, their costumes) and placed in strict bondage and left struggling on the floor as helpless prisoners! At the League of Amazing Women we have action, and excitement, and intrigue!
If you want to see the hottest superheroines in the industry unmasked (only to reveal the hottest fetish talents in the world exposed for the whole world to see) then log in now and let your sexiest spandex-clad fantasies come to life!